Hunters on Jay is a hidden gem on Jay St.
I recently put out a post on the group 518 Foodies asking for recommendations because I was craving some good pub food. With many recommendations, we decided to stop at Hunters on Jay. Just a short drive from the famous 20 North on Broadway, Hunters sits just near the dead end next to Civitello's. The only parking it street parking, but it was pretty dead at night.
We walked in and the place was pretty small, definitely a dive bar. We sat at the table across from the bar and were thoroughly impressed by their craft beer list. With over 20 drafts to choose from, there was an option for everyone. There was a variety of IPA's, ales, stouts - lots from local breweries. The bartenders were welcoming and personable. Your immediate thought was if you were getting served by a friend. The beer was nice and cold.
For dinner we decided on the bacon cheeseburger and reuben. I'm not the biggest fan of thousand island dressing so I ordered mine with blue cheese instead. If you haven't tried it, I definitely recommend - it's a game changer. It was absolutely delicious. The bread was perfectly toasted, the corned beef was tender and the dressing was great. It was packed with flavor and definitely one of the best I've had, even the fries were great.
My dinner guest ordered the bacon cheeseburger and it was absolutely perfect. The bacon was crispy, the burger was cooked exactly to his liking and was extremely juicy and flavorful. The meat was seasoned very very well. And the fries… well I could eat a whole basket of those.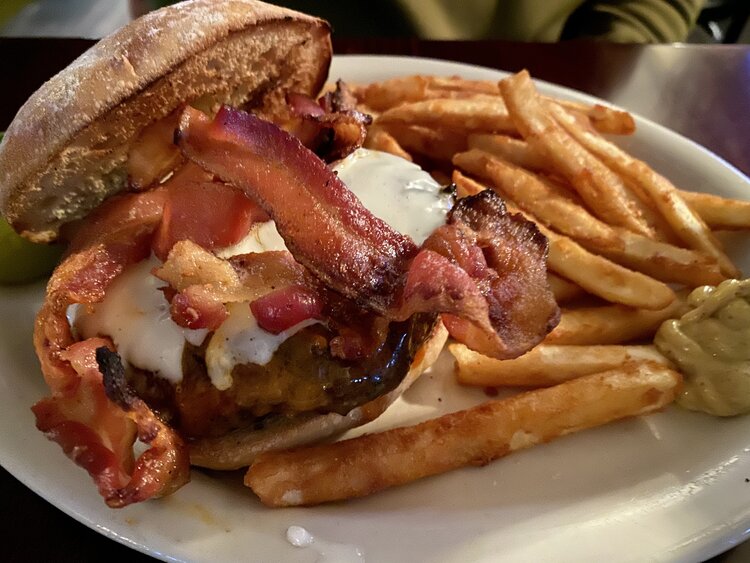 This is definitely not what he expected, it was so much better. The crowd seemed to be regulars, but in the best way possible. Everything about this place was inviting from the staff to the patrons. If you're ever in the area, we definitely recommend stopping by. This dive bar has great food, great beers and great people. Tell them you saw them on 518 Foodies.